Noticed you didn't have any info on Gene's date or place of death. I am Judy (1st wife) brother Roger Lauer is in your class. I thought I had given him the info on Gene's death. Anyway here's info:

Eugene Carroll Field

DOB 18 Feb 1943
DOD: 18 June 2009

Died at the Morning Star Care Center in Fort Washakie, WY after he was transferred from the Lander WY hospital. He died of cancer of the head and neck. He owned a house outside Dubois, WY for about a year before his death. Before that he lived near Peshastin, WA. He was survived by his daughter Tanya Field (whom he failed to mention in the bio he sent you). His only child by Judy Lauer (me). Also survived by his brother Gary Field, wife Mary and their two daughters; and half-brother Rick Evans. He was preceeded in death by his father Verne Field and mother Lorene Williamson Field Evans.

He was cremated and ashes scattered in the Dubois Cemetery. No obit was published to my knowledge.

Sincerely,

Judy Houha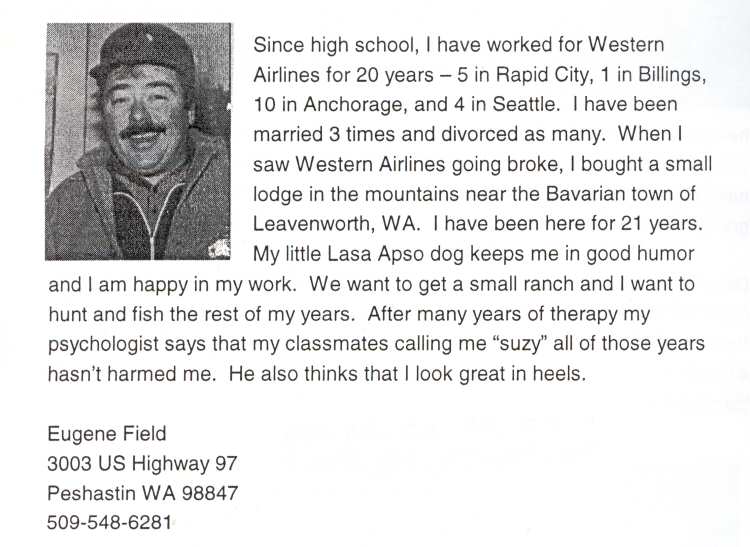 We will let Suzy' posting in the class handbook from the 40th reunion be his obituary. It is fitting he write his own.
I regret very much not being able to see and visit with him again. We spent a little time hangin' out when we both attended Coolidge, and he was a cackle. We both lived on the same end of town, and we would walk home from school together from time to time. I would also walk by his place on the way into town on Friday nights, and we would finish the walk together. I don't really remember any specific times spent with him, but i do 'smile' when i think of him; he was quite a character.